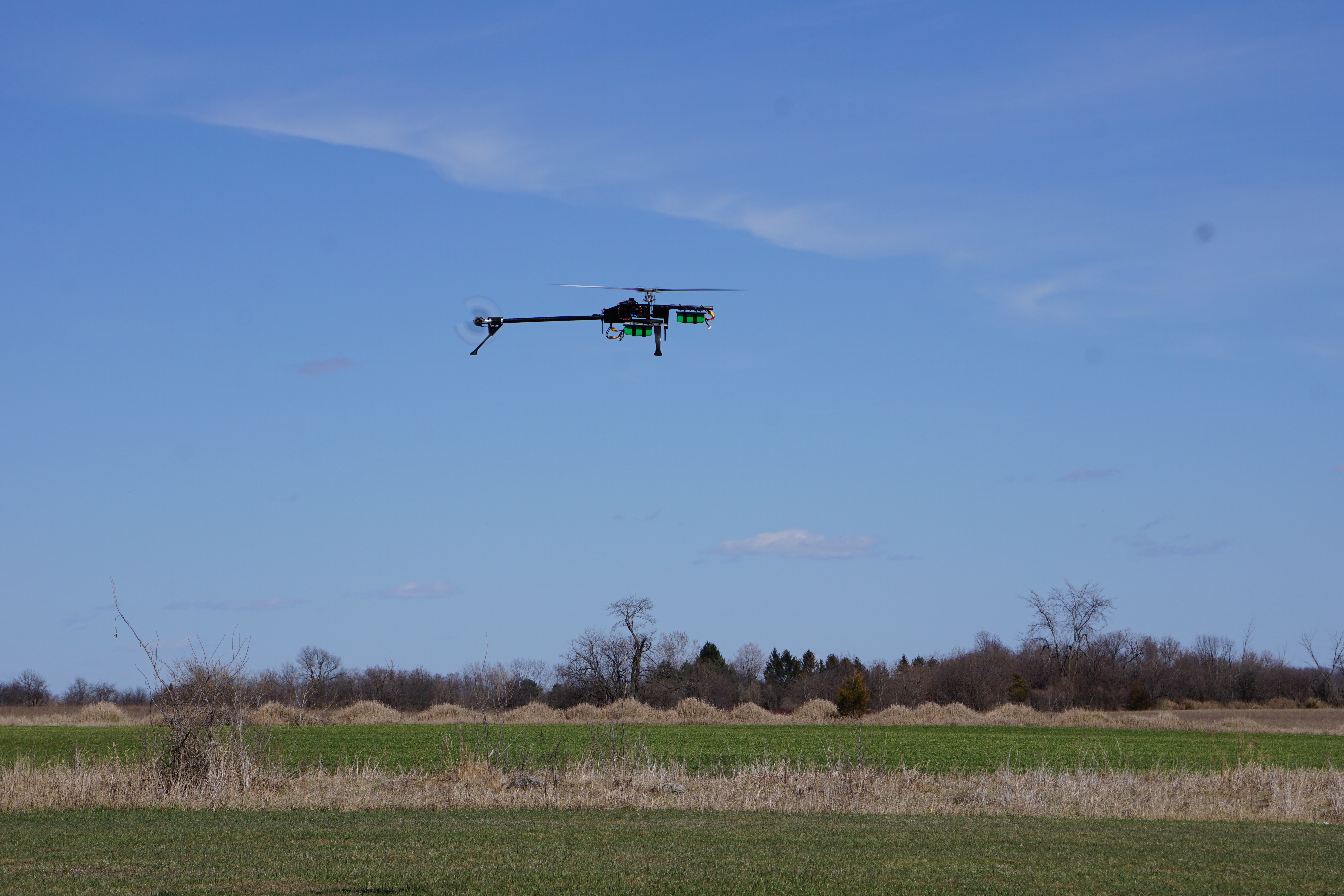 NOVAerial Robotics is pleased to present a new helicopter design which has been engineered from the ground up for UAV usage. Today, on just its 3rd test flight, the Procyon 800 Electric helicopter design demonstrated capability of achieving a 1 hour VTOL flight at speeds up to 20 m/s while carrying a 1kg payload (represented by a steel slug in this photo).
This revolutionary new design of UAV helicopter offers unmatched capability, reliability and performance in a VTOL system, and it is technology that is available and ready for service today.  The design features quiet, efficient and reliable belt drive, compact powerplant frame, and top quality Futaba SBus Servos.  The powerplant frame design allows the platform to be flexible to serve various roles, with sensor payloads front-mounted or bottom-mounted depending on need.
This first iteration is intended for high-speed, long-distance mapping and will carry a Sony QX1 with quality glass such as the Zeiss Touit 12mm lens, on a simple no-fuss servo gimbal.  It will be capable of sustained flight speeds of 20-30 m/s, with maximum efficiency achieved at 10-15 m/s (not hover, such as with a multirotor).
Further development will allow usage of a full-frame DSLR on a brushless gimbal mounted in front, with reduced flight time and speed.  Other roles will be possible, such as cargo delivery.
While helicopters are often overlooked in the rush to develop new UAV technology, they offer unbeatable performance with high technology-readiness, today.  No other VTOL design is capable of combining sustained high-speed flight, cargo capacity, easy to store and transport form, and weather tolerance.
This is but one example of the total system integration capabilities of NOVAerial Robotics.  We are capable of offering not just flight code programming, but complete vehicle design including powertrain and aerodynamics optimization, payload integration, and electronics design.