NOVAerial Robotics is pleased to announce that Phase-2 beta testing of the revolutionary Procyon 800E helicopter design is underway.
Changes and improvements since Phase-1 include a complete new battery system. A payload integration system.  RFD900+ radio modem. 4th generation ESC.  And a full 3D Printed body.
The new battery system is composed of dual-redundant 6S 22,000mAH Hardshell 'Smart' Batteries.  These new batteries have a built-in charge status indicator, as well as over- and under-temperature warnings, automatic cell balancing and storage charge features.  In addition, the hard-shell case improves durability of these large battery packs, and makes installation into the vehicle easier. They simply slide into the bays and are retained with a rubber stretch band.
The front payload integration system on this Extended Range version is composed of a simple 80mmx80mm square mounting pattern with M3 steel threaded inserts on the bottom of the forward mounting bay.  The ER version is designed for up to 1kg of mass, perfect for medium-weight inspection or mapping cameras on a gimbal.  Shown is a simple fixed NADIR mount for a Sony QX1, but a gimbal for this camera will be developed.
The RFD900+ data radio offers the option for more power, allowing longer range and/or higher data rates than the old discontinued 3D Robotics radios.  It is mounted at the lowest point of the airframe to provide the best signal transmission.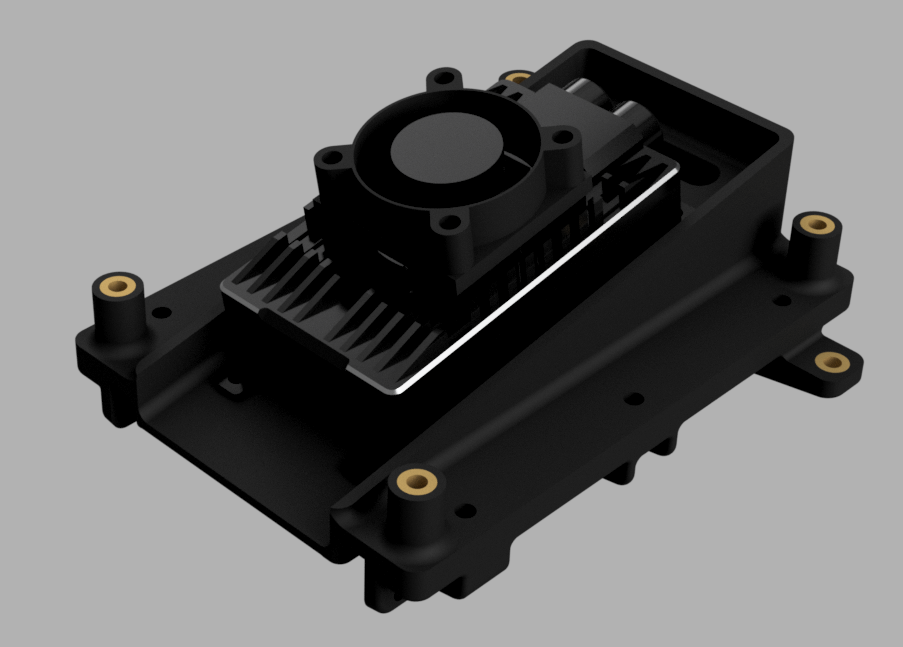 The ESC has been updated to a 4th generation unit, and upgraded from 100A to 120A. The 4th generation ESC now utilizes a 72MHz 32-bit processor, and features Active Freewheeling for increased efficiency at part load, and improved Soft-Start function.
We have developed technology that allows the use of 3D printed plastic parts for the body, as well as light-duty structural parts.    The 3D Printed body is not streamlined, but this is not important at the speeds typically flown by helicopter drones.  The plastic body is cost-effective, light weight, and more durable than fiberglass bodies.  It is also modular which make servicing and repairs easy, and finally makes the body easy to adapt as required by the end-user.  Need to add a feature?  It's easy to add it in CAD, and re-print the body piece, and it will bolt right up.
So far the vehicle system has demonstrated no vibration issues for mapping, even with the fixed mount.  A test crop is included. Not actually the clearest image ever but the Sony 16mm E-mount lens used isn't exactly known for it's quality.  Further testing will be conducted with better lenses.  This is not just the best sample, all of the test set are blur-free.